How Can We Help?
Our team wants nothing more than to provide assistance in whatever you may be facing.  There are no restrictions, no rules – just being in the present and offering pastoral care in many forms.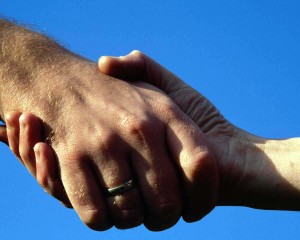 Mathew 8:23-27 shares how Jesus calmed the seas and strong winds.  As Chaplains, we do our best to imitate Him when comforting the person sitting in the gate area crying, the person having a lost look about them, the flight attendant who had to leave a sick child at home or lose her job or the employee working two jobs to make ends meet.  All are "needy".  All are "poor" in as much the pressures of life are overwhelming them in a very public place.
We hope those we interact with will remember the care and love our Father has for them and find the strength to move through the moment.  It is extremely important to each of us that care and respect is demonstrated by our presence and out-stretched hands accepting anyone as they are without conditions.
Here are just a few reasons you may want to contact a Chaplain:
You've noticed a traveler that seems lost or disoriented.
There's a lot of possible changes with your job at the airport and it would be good to "talk it out" with someone.
You're part of the USO "Fallen Soldier" program and you notice a member of the military family could use someone to talk to.
Ticket agents for an airline are facing a system shutdown and they could use some help with those in line who are quickly losing patience.
In the rush to get a flight, it finally hits you – you're traveling because you've lost a loved one . . . and the grief overcomes you.
Finances didn't make it easy to fly in the first place and now the airline tells you they can't put you on another flight until tomorrow.
It's summertime and that line of storms up and down the east coast has forced so many cancellations the Airport needs help distributing cots.
You wife is battling a tough illness, but you've got to keep it together at work because you need the money to cover her care.
Your part of a group trip and you'd like to pray together before you embark on your adventure.
If you see one of us walking through the Terminal (we're the ones with the collar AND the airport ID badge!), please stop us and say "Hello."  We'd like nothing more than to make a new acquaintance!