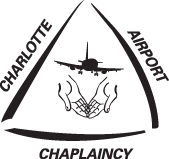 The Airport Chaplaincy Program is a 501(c)3 non-profit organization that, since 1988, has been dedicated to bringing the never-ending love of God to passenger, employee and air crew imitating the Good Samaritan as best we can.
Here are some interesting facts about the Airport Chaplaincy Program:
• The CLT Airport is served by a team of 18 ordained or licensed Priests, Rabbi,  Ministers, Permanent Deacons, and Associate Chaplains.  The organization does not offer a salary or stipend to any of the Chaplains.  The Director (a permanent Deacon) receives a stipend directly from the Catholic Diocese of Charlotte.
• CLT Airport is a busy place!  There are a very large number of people constantly moving through and around the main terminal, and thus we have the potential to offer care to the following:
» PASSENGERS
• 42 million passengers used Charlotte Douglas Airport in 2012
» EMPLOYEES
• 6,600 – US Air
• 8,500 – Tenants
• 5,000 – City/Security
» USO
• 80,000 military personnel, their families plus retirees
• 300 volunteers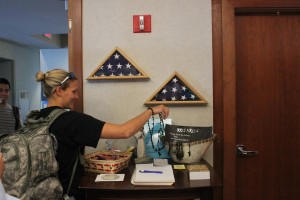 • 2100 passengers and employees attended one of our three Sunday services in 2012.
• 1200 people signed our guest book in the chapel in 2012.